Foundation Repair Services
Stabil Solutions is the #1 Foundation Repair Company in Delaware, Maryland and Pennsylvania
Foundation Repair Overview
If you notice cracked floors or misaligned windows, you may have foundation issues that need to be addressed immediately. Stabil Solutions offers foundation repair services in Delaware, Maryland and Pennsylvania, and specializes in helical piers to stabilize your foundation. Our products are designed to lift and support sinking foundations back to normal.
Evaporation
Hot and dry conditions may cause soil to pull away from the foundation. Settlement due to this foundation moisture imbalance could cause cracks to appear throughout the structure.
Transpiration
Tree roots could dehydrate the soil beneath a home causing soil shrinkage.
Plumbing Leaks
Water from leaky plumbing is often a major contributor to foundation problems including heaving.
Drainage
Improper drainage will lead to excess moisture build up, which could erode or consolidate soils. Excessive moisture may cause heaving of expansive soils.
Site Preparation
Cut and fill situations, where soil is removed from part of the building site and stacked on another, needs proper soil stabilization before a structure is built; otherwise unexpected movements of the soil beneath the foundation may occur.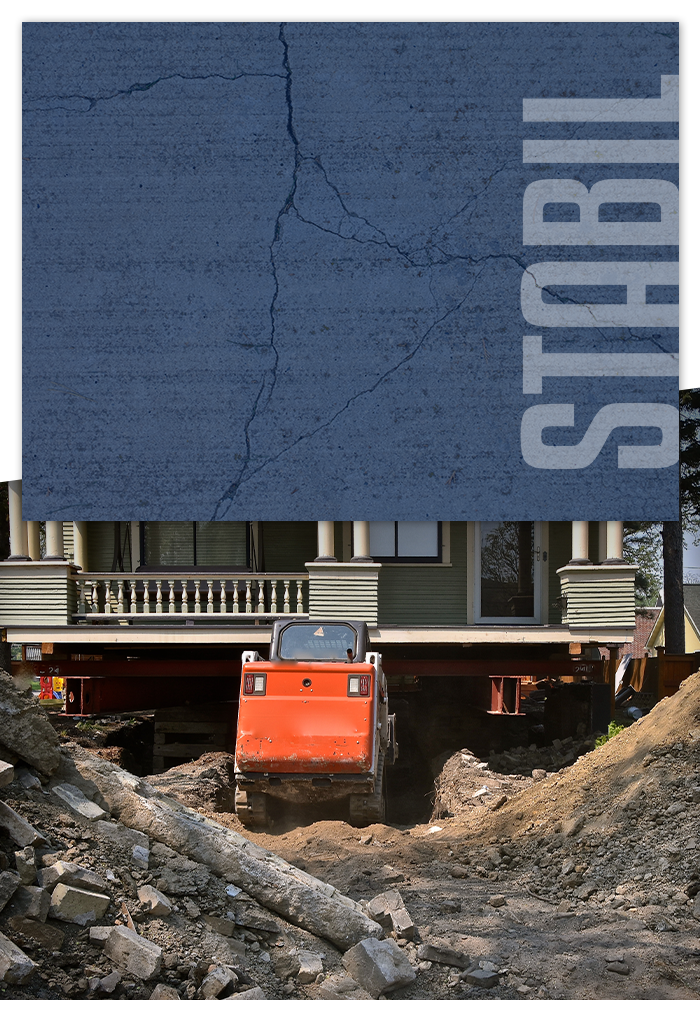 Signs of Settlement In Your Home's Foundation
Bowing & Leaning Walls

Cracked, sagging, or uneven floors

Misaligned Windows

Cracks in Foundation

Sagging Rooflines

Leaning Chimneys

Crooked Garage Frames

Cracks in Bricks

Popping sounds

Drywall cracking

Doors / windows that won't open or close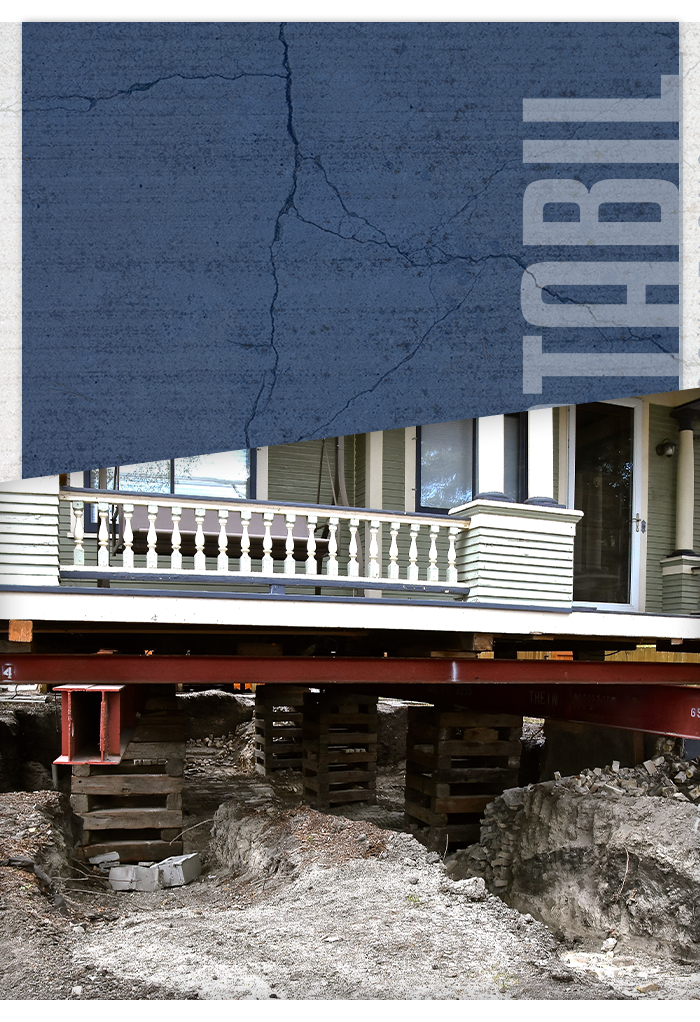 Why repair your foundation in Delaware, Maryland and Pennsylvania
Foundation movement can quickly become a major issue for any home. Left untreated, it can cause serious damage to the structure of the house and make it unsafe, useless and worthless. Not only that, but it can also be impossible to sell a home with serious structural issues except for a discounted "fire-sale" price, and banks often won't lend on these homes either. Furthermore, cracks in the foundation, leaky windows and doors can lead to water infiltration and energy bills that are much higher than they need to be.
Don't wait until it's too late to address these problems – contact us now for a free evaluation and get your home back in shape.
Stabil Solutions' Solution For Structure Settlement
Stabil Solutions' Helical Anchors permanently stabilize or lift structures that have foundations, patios or stem walls. Helical piers are mechanically drilled through soils to reach load-bearing strata without the resistance of the structure. After the installation has reached the specified depth and verified capacity, a steel engineered foundation bracket is connected to the helical pier for lift or stabilization.
Our Step By Step Process For Foundation Settlement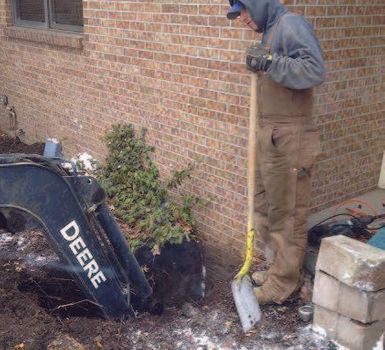 1.) Soil Excavation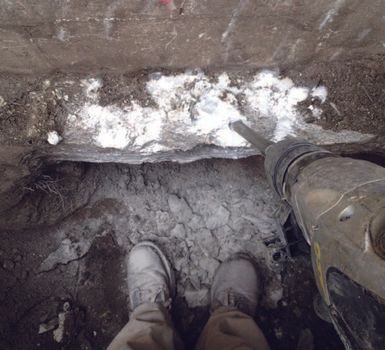 2.) Prep Footing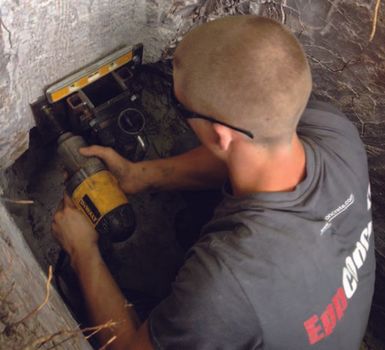 3.) Mount Bracket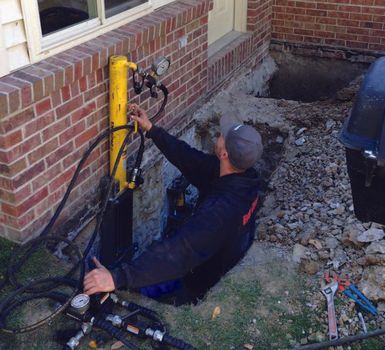 4.) Drive Piers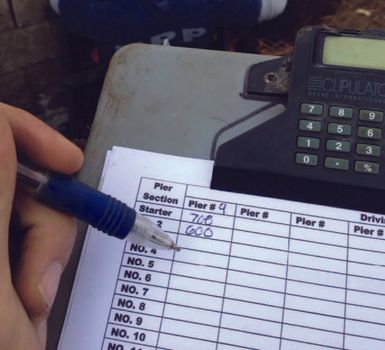 5.) Record pressure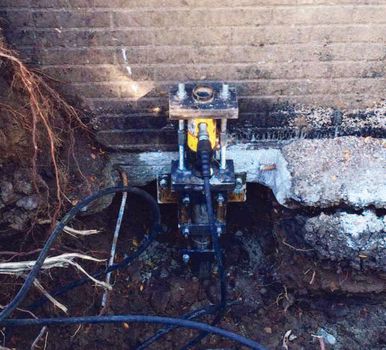 6.) Lifting house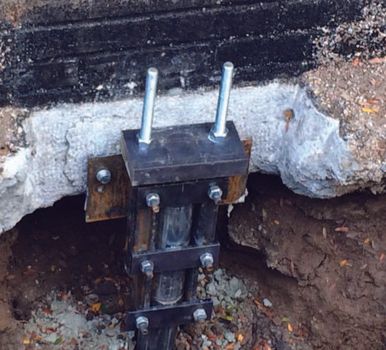 7.) Completed Pier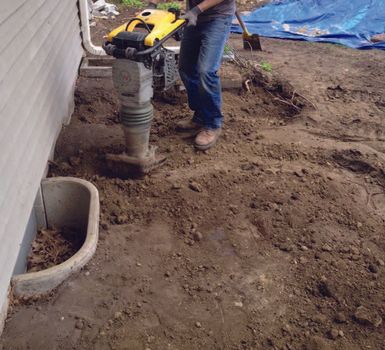 8.) Soil replaced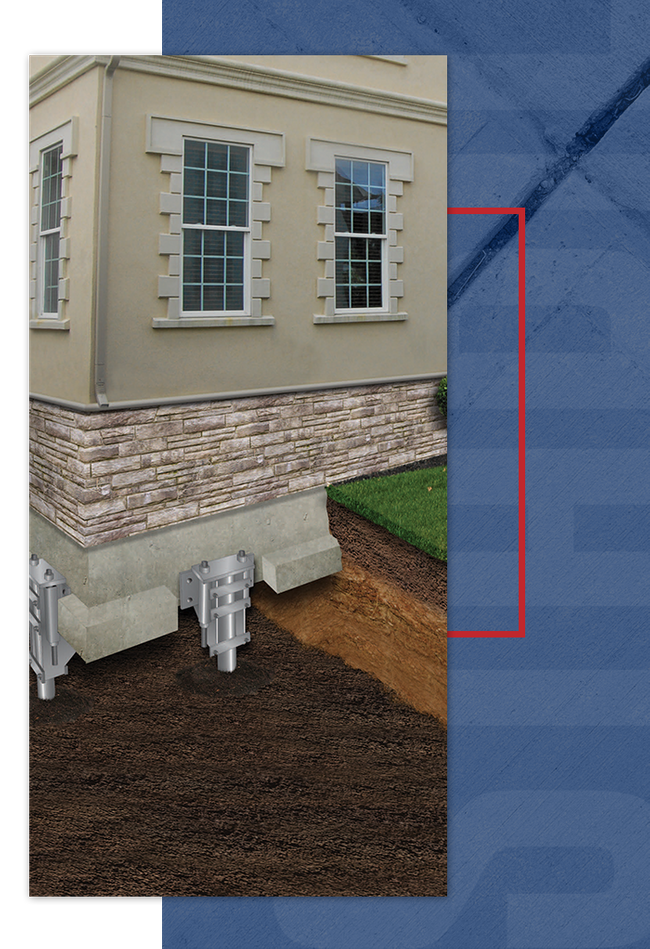 Why Helical Piers are the preferred method for structure settlement
Installs to load bearing stratum

A permanent solution that prevents further settlement

Unlimited structure lifting capabilities

Year round installation

Manifold lift (allows for synchronized lift)

10,000 psi hydraulic capacities
Helical Piers Are The Right Choice for Structure Settlement