Basement Concrete Leveling & Repair
Delmarva's Preferred Concrete Leveling Company
Your Expert Team in Maryland, Delaware, and Pennsylvania
Whether or not your basement is finished, you want the peace of mind that the concrete slab is level and free from cracks and gaps. At Stabil Solutions, we understand the issues that can arise when basement concrete begins to settle or crack, and the headaches it can cause for you and your family. With our professional concrete leveling and repair services in Delmarva, you can rest assured we will pinpoint the problem and fix your basement concrete in no time at all.
There are a number of reasons why your basement concrete may be shifting or cracking. Keep reading to learn more, and if you have any questions, please contact us right away! Our team is always ready to help however they can.

Free Estimates & Inspections

Quick, Reliable Service

Better Business Bureau Rated

All Work Warrantied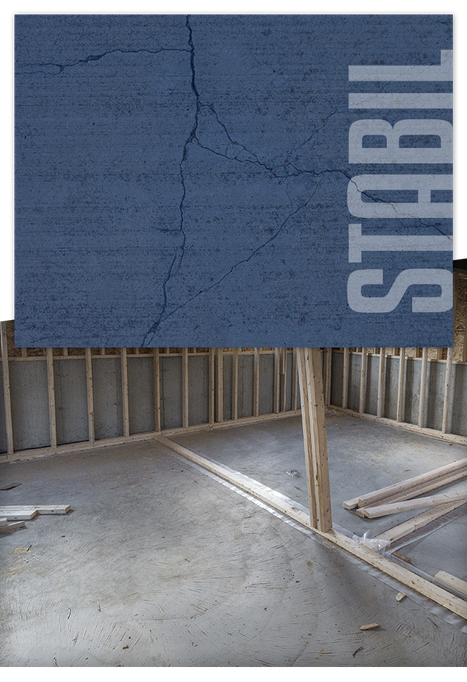 What Causes Basement Concrete To Sink?
As a homeowner, you want to feel confident that your basement concrete isn't sinking or settling. However, concrete can sink due to improper drainage around the foundation of your home, as well as due to loose soil that was compacted when the basement was originally excavated. If the soil shifts or water is able to find its way under the concrete slab, the concrete may move or shift, causing cracks, gaps, and other issues.
Over time, the foundation of your home may also begin to settle. This can lead to uneven concrete in your basement, as the ground around your home shifts along with the foundation. If you're concerned about your basement concrete, please don't hesitate to get in touch with us right away.
Looking for Interior Cracks
If your basement floor is unfinished, meaning the concrete is still visible, it's important to keep an eye out for any cracks or gaps in the concrete itself. These cracks can appear on the floor or on the basement walls, and as soon as you notice any of these signs, it's important to call a concrete leveling expert. At Stabil, we can inspect your basement and diagnose the source of the problem, whether that's water damage or a foundation that's begun to shift.
It's important not to ignore interior cracks in your basement floor or walls. If you have a finished basement, with carpet or another type of flooring on top of the concrete, make sure to check for any "soft" spots in the floor or any areas where the floor seems to slope. This can be an indication of sunken concrete, and we can help you take care of these issues right away.
Exterior Signs of Concrete Issues
If your basement concrete has begun to sink or crack, there will be exterior signs as well. As your foundation moves and settles, you might notice cracks in the exterior concrete of your home, as well as sagging roof lines or windows that don't seem to be at the proper angle. If you have a chimney on your roof, it may begin to lean in one direction as the concrete below moves and settles.
When you notice any exterior signs of basement or foundation concrete issues, make sure you know where to turn. At Stabil, we can come to your home and look at the exterior to pinpoint any potential problems that stem from sunken or shifted concrete.
No Need To Replace Your Concrete
When you notice issues with your basement concrete, your first thought may be that you have to replace the slab completely. While this is an option, it can be extremely expensive to tear out and replace your basement concrete. Concrete leveling and repair are a fraction of the cost of replacement, and our team always works quickly to have the job done in no time. If you choose to replace your concrete foundation, it could take weeks and you may have to move out of your home for a certain period of time. With our services, your concrete can be repaired in a matter of days.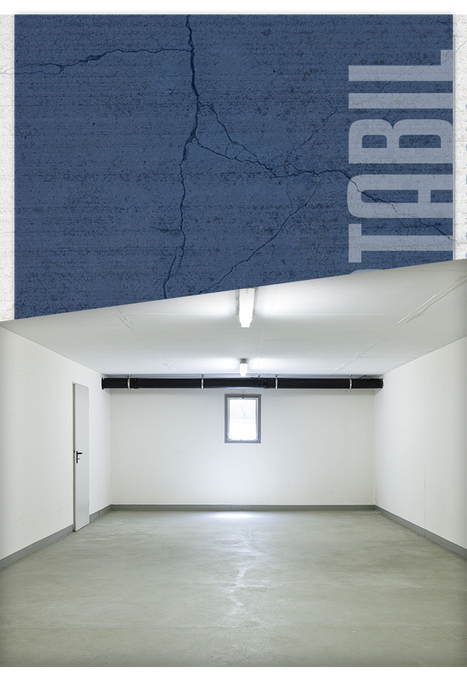 Our Concrete Leveling Process
We approach each concrete leveling and repair job with care and precision. We will drill small holes in your basement concrete, filling the holes with polyurethane foam that levels the uneven concrete and fills any voids caused by water damage or compacted soil. We monitor everything closely so the slab is lifted and repaired properly, ensuring you have a level floor once we're done.
We can walk you through our entire process before we begin, outlining each step and answering any questions you may have. Above all, we want you to feel confident you made the right choice in hiring our team.
A New Basement Floor
Once the leveling process is done, we'll inspect your concrete slab both inside and outside your home. We'll look for any spots that still need some attention, as well as any areas that need a bit more adjusting. We want to prevent any future issues with your concrete slab, and our goal is to give you a basement floor that looks and feels like new. You shouldn't have to worry about sagging or cracked walls, uneven door and window frames, or costly repairs down the road.
If you'd like to learn more about our basement concrete leveling and repair services in Maryland, Delaware, and Pennsylvania, please contact us today by using the button below. At Stabil, we're always happy to help however we can, and we want to do everything in our power to take care of your home's concrete issues. We look forward to hearing from you!