Concrete Driveway Leveling Services
Delmarva's Preferred Driveway Lifting Company
Driveway Lifting Services In Delmarva You Can Depend On
Having a smooth, dependable driveway is very important. Not only do you want to make sure its integrity is solid when parking your vehicles, but you also want to make sure it's safe for you, your family, and guests to use without tripping or falling on an uneven surface. That's why we at Stabil Solutions provide high-quality, dependable concrete driveway leveling services for our customers to ensure your driveway functions the way it was meant to.
Regardless of if you live in Central Maryland, the Eastern Shore, Delaware, and Southeastern Pennsylvania, our concrete raising company is able to provide you with the driveway lifting services you need. Just get in touch with us, or request a quote to get started!

Free Estimates & Inspections

Quick, Reliable Service

Better Business Bureau Rated

All Work Warrantied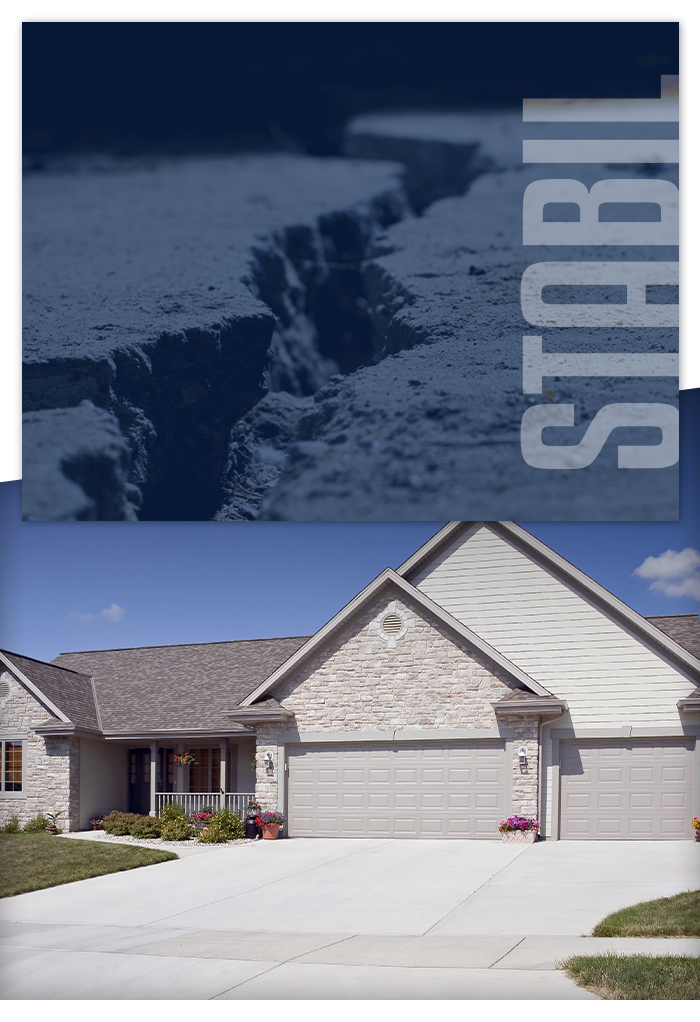 Delmarva's Preferred Concrete Driveway Leveling Company
As a homeowner, if you notice your driveway is starting to crack or sink, you're likely wondering what's causing it, what you need to do to fix it, and how much it will cost you. Luckily, when you hire Stabil Solutions for the job, we will walk you through the entire process and provide you with exceptional driveway leveling services that will last for many years to come. Stabil Solutions is different from the other concrete lifting companies in the area because we take the time to provide you with a free inspection and quote, and we offer financing options that are affordable so you can receive repairs fast without worrying about breaking the bank. Here are a few reasons why so many homeowners choose our concrete leveling services in Delmarva:
We are rated by the Better Business Bureau

All of our work is warrantied

We are fully licensed and insured

We have more than 20 years of industry experience

We always provide free estimates and inspections

We provide quick and reliable services

You can save 50-70% of your money when you hire us
If you have contacted other concrete companies in the area and they tell you the only way to repair your driveway is to replace it altogether, don't believe them. At Stabil Solutions, we offer concrete driveway lifting services that don't require laying down any new concrete. We simply use polyurethane to lift it back to its original location. Trust the pros at Stabil Solutions, and request a quote today!
TESTIMONIALS
Excellent customer service - regular communication when there were rain delays. Was the best price as well. Gave estimate efficiently by using photos i uploaded. The work was very good - can hardly tell any work was done at all as they filled all cracks and holes and cleaned up nicely. Would highly recommend them

Ravi J.

Mike was fantastic. Easy to work with. On time and provided recommendations on ways to best accomplish the task. Finally, came in under his estimate and his estimate was a good bit lower than what I was expecting based on online research. A++

Lance B., Havre de Grace, MD

Mike was fantastic. Easy to work with. On time and provided recommendations on ways to best accomplish the task. Finally, came in under his estimate and his estimate was a good bit lower than what I was expecting based on online research. A++

Thanks Mike. Your service was very professional. Great communication both e-mail and telephone. Timely responses and accurate estimate. Work completed was exactly as hoped, great outcome. You also identified another slab that needed adjusted and corrected that issue as well. I would and will recommend your service.

Jim H., Baltimore, MD
Signs Your Concrete Driveway Needs Repair
We know that life gets busy, and sometimes it's hard to keep an eye on everything going on with your home. That's why we are here to bring your attention to some telltale signs that your driveway needs to be professionally lifted to ensure its integrity.
Cracks - One of the most obvious signs that your concrete driveway needs lifted is if you're noticing cracks. No matter if they are small, short cracks or large cracks that span across your entire driveway, that's a sign that you need to call a professional. The longer you wait to have your concrete driveway lifted, the more issues it can cause down the road.

Uneven Surface - If you walk across your driveway and notice it's becoming a bit uneven or causing you to trip, that's another sign that your concrete driveway is beginning to sink in certain areas. While there are a number of culprits that could be causing this issue, it's best to have an inspection completed and schedule a concrete driveway leveling service as soon as possible.

Pooling - Another sign that's hard to miss is if you notice pooling or puddles on your driveway. That means the surface isn't level and there's an issue below your concrete driveway causing it to shift.
These signs certainly can't be ignored, and our expert concrete driveway leveling company in Delmarva knows exactly how to fix any of the issues listed above to get your driveway back into tip-top shape. All you need to do is give us a call and let us know your concrete driveway needs attention, and we will handle it from there. Call Stabil Solutions today!
We Offer Financing Options!
While we at Stabil Solutions offer affordable pricing for our concrete driveway lifting services, we understand that you have a budget and other bills to pay. That's why we offer financing options for all of our concrete lifting services. Learn more today!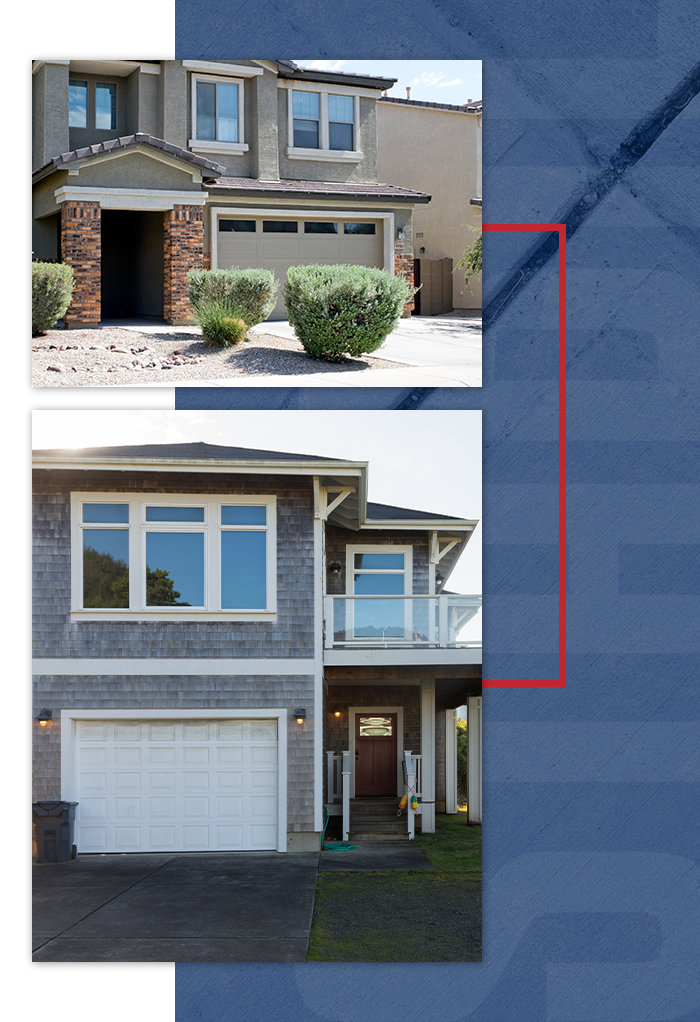 How Our Concrete Driveway Leveling Process Works
After you request a quote from our team and we all decide on a budget and timeline for repairs, our team will arrive at your home with all of the tools and material needed to complete the job. Here's a brief overview of what to expect:
Drill Holes - Our team will drill holes in particular places in your driveway.

Pump Polyurethane - Once the holes have been drilled, we will pump polyurethane into the concrete, which will begin to lift your concrete driveway.

Level Check - After the polyurethane has been pumped into the holes, we will check to make sure your concrete driveway is perfectly level.

Fill Holes - When we determine your driveway has been lifted to the correct level, we will fill the holes that we drilled, and you can use your driveway immediately after.
Have more questions about our concrete driveway leveling process? We have an FAQ page that answers commonly asked questions that you can check out! However, if you have more questions related to our services, pricing, and more, please don't hesitate to reach out to our team. We are here to answer your questions and provide you with all of the information you need in regard to leveling your driveway.
Schedule A Concrete Driveway Leveling Service In Delmarva Today!
As soon as you notice something isn't quite right with your driveway, whether it's some cracks forming or puddles of water collecting, give Stabil Solutions a call. We're the concrete lifting company in Delmarva you can trust to provide you concrete driveway leveling services you can depend on for many years to come. It's as simple as requesting a quote online!