Sunken Concrete Repair Services
Delmarva's Preferred Concrete Lifting and Leveling Company
Sinking Concrete Repairs In Delmarva
From sidewalks and driveways to garage floors, pool decks, and more, concrete is a sturdy and dependable material to use as a foundation for all of those areas around a home or business. However, over time, concrete can crack or sink due to soil expansion, tension, and more. Our experts at Stabil Solutions are here to provide our customers in Delmarva and the surrounding area with exceptional concrete lifting services you can depend on.
As a Maryland-based concrete leveling company, we proudly serve Central Maryland, the Eastern Shore, Delaware, and Southeastern Pennsylvania. If you're experiencing sunken concrete on your property in any of these areas and need high-quality concrete repairs you can trust, give us a call today! We provide quotes for all of our concrete raising services.

Free Estimates & Inspections

Quick, Reliable Service

Better Business Bureau Rated

All Work Warrantied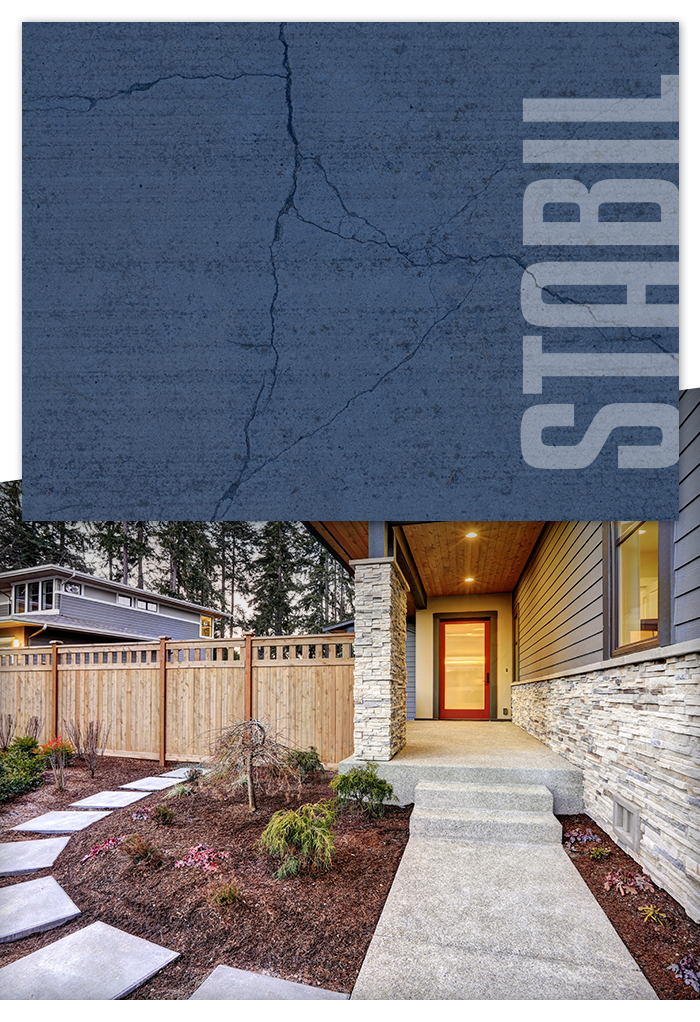 Sinking Concrete Issues? Trust Stabil Solutions!
When it comes to maintaining your property to ensure the integrity of your home or building, you want to make sure that the foundation is solid. So, if you're noticing sinking concrete on your property, you want to address the issue as soon as possible to take care of the problem quickly and prevent further damage from occurring. When it comes to finding a local concrete leveling company you can trust, it's important to find experts that are highly experienced, knowledgeable, and provide you with long-lasting solutions at an affordable price. When you trust Stabil Solutions, you will receive all of that and more, including:
We are rated by the Better Business Bureau

All of our work is warrantied

We are fully licensed and insured

We have more than 20 years of industry experience

We always provide free estimates and inspections

We provide quick and reliable services

You can save 50-70% of your money when you hire us
As soon as you notice your concrete is sinking, whether it's a minor dip in the concrete or a major sunken area, give Stabil Solutions a call. We will complete a free inspection and provide you with a quote to repair it in a timely manner. From there, we will work with you, your timeline, and budget to provide you with concrete leveling services that will stand the test of time. Request a quote today to get started.
TESTIMONIALS
Excellent customer service - regular communication when there were rain delays. Was the best price as well. Gave estimate efficiently by using photos i uploaded. The work was very good - can hardly tell any work was done at all as they filled all cracks and holes and cleaned up nicely. Would highly recommend them

Ravi J.

Mike was fantastic. Easy to work with. On time and provided recommendations on ways to best accomplish the task. Finally, came in under his estimate and his estimate was a good bit lower than what I was expecting based on online research. A++

Lance B., Havre de Grace, MD

Mike was fantastic. Easy to work with. On time and provided recommendations on ways to best accomplish the task. Finally, came in under his estimate and his estimate was a good bit lower than what I was expecting based on online research. A++

Thanks Mike. Your service was very professional. Great communication both e-mail and telephone. Timely responses and accurate estimate. Work completed was exactly as hoped, great outcome. You also identified another slab that needed adjusted and corrected that issue as well. I would and will recommend your service.

Jim H., Baltimore, MD
What Causes Sinking Concrete?
Before we dive into how our expert concrete leveling company in Delmarva fixes sinking concrete, let's cover what causes concrete to sink in the first place.
There are a few different reasons why concrete can begin to sink over time. Here is a brief explanation of the few of the common causes:
Soil Type - Believe it or not, the type of soil that's below the concrete can have a major impact. The reason being, different types of soil have different load-bearing capabilities. If the soil below concrete has a lower threshold, the heavy concrete on top of it will start to compact the soil, causing it to settle. As a result, the concrete will sink.

Water Flow - As water moves through the soil underground, it can start to wash away or move the soil inadvertently. In doing so, it removes the structure the concrete was resting on, causing it to sink over time.

Expansion and Contraction - The soil beneath concrete often goes through cycles of dry and wet whether. When the soil gets wet, it tends to hold in the moisture and expand underneath the concrete. Once that soil dries out, it begins to shrink seeing as the locked in moisture is no longer present.
Now that you are aware of the common causes of sinking concrete, we'd like to cover some of the common signs that your concrete is sinking and needs attention:
Pooling Water - If you notice a certain area of your concrete has started to form a pool of water, that's a telltale sign that you have sinking concrete.

Uneven surface - While pooling water is an obvious sign, there are less obvious signs of sinking concrete, such as noticing a slight slope in the concrete or frequently tripping or missing a step in the same spot.

Cracking - If the sunken concrete is bad enough, it will eventually start to form cracks.
If you've noticed any of the signs mentioned above, give our team at Stabil Solutions a call today. We will troubleshoot what's going on and provide you with exceptional concrete leveling services that will last for decades to come.
We Offer Financing Options!
Worried about the cost of our concrete leveling services? Don't be! We offer financing options for all of our services so you can ensure your concrete is in tip-top shape without stressing about paying for it in one lump sum! Learn more about our financing options by clicking the link below.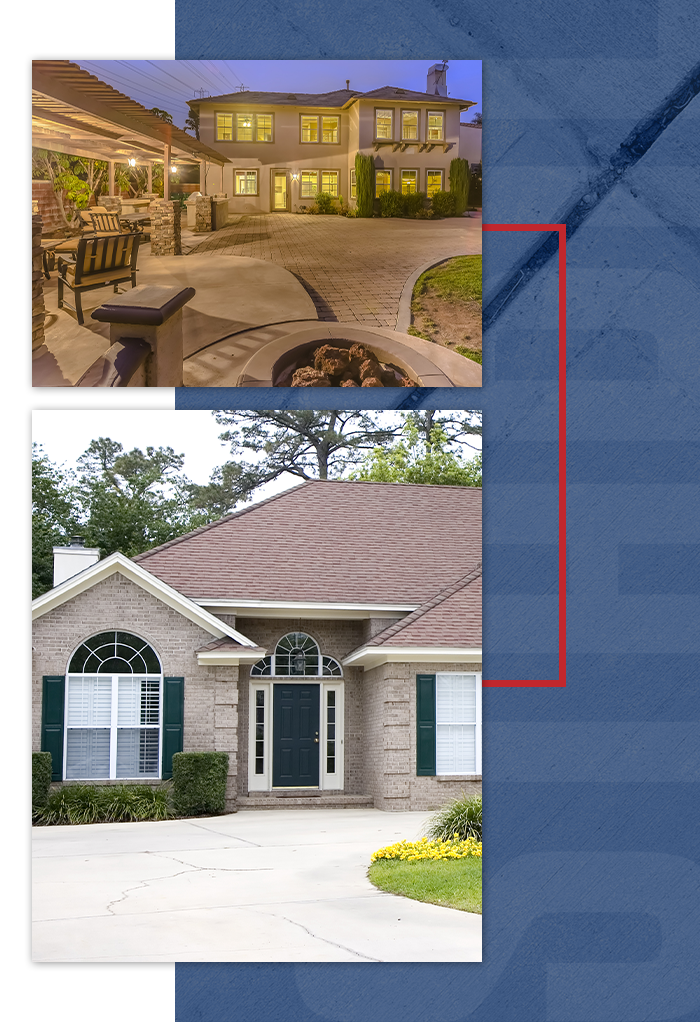 Our Sunken Concrete Repair Process
Now that you know the common causes and signs of sinking concrete, we at Stabil Solutions are here to inform you of our concrete leveling services we provide to get your concrete back to where it needs to be.
Inspection - A member of our team will come to your property and inspect the sunken concrete.

Quote - Once we have completed the inspection, we will provide you with an accurate quote of the scope of the project.

Concrete Lifting - Time to lift the concrete! We will come prepared on the scheduled day to lift the sunken concrete with our state-of-the-art equipment and materials to make your concrete level again.
Our process is quick and effective, allowing you to enjoy your level concrete once again shortly after we lift it! If you have additional questions, feel free to check out our FAQ page or contact us today!
ore about our concrete raising services, and request your quote today.
Get Your Sunken Concrete Repaired In Delmarva Today
Don't wait for your sinking concrete to create more of a headache than it already is, and call Stabil Solutions today! We provide free inspections and estimates, and will fix your sunken concrete for good!